Cikembulan Wildlife Park in Kadungora Sub-District, Garut Regency
---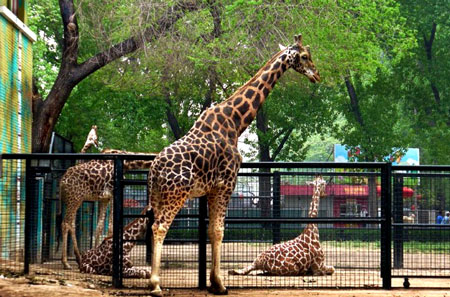 Perhaps some travelers are not aware of the presence of Cikembulan Wildlife Park in Garut Regency yet. In this case, they must include it in their agenda for the next holiday! The location is in Cikembulan Village and it resides in Kadungora Sub-District. This park has completed the allure of Garut and it becomes a nice choice when it comes to a family recreation, photography, and education. Parents can even teach their kids regarding several names of exotic animals and watch these directly while exploring the park! Thus, it would be a waste if they miss the chance to drop by in the park during a visit in Garut.
The Nuance
In terms of nuance, Cikembulan Wildlife Park offers both peaceful and comfortable atmosphere to visitors. Plus, the panorama looks stunning due to the presence of various plants and trees that grow on the site. The prime attraction, without a doubt, is the exotic fauna! They come in different species, so tourists can watch them all comfortably during the visit. What is more? The park also provides other interesting facilities like eateries, fish pond therapy, a miniature of Titanic ship, toilets, parking area, and many others.
Exploring Cikembulan Wildlife Park
Once arriving at Cikembulan Wildlife Park, before exploring the site, tourists should consider eating lunch at available eateries. The menu is mouthwatering as it offers delicious Sundanese foods and other types of culinary, as well. After eating, they can explore the park and watch the animals with their families. The size of the site is around 5 hectares, so it doesn't take much time to explore it. When it comes to fauna collection, there are about 108 species (both protected and common ones) living there. In terms of quantity, the park has approximately 465 animals in it!
When it comes to popularity, several species get lots of fans actually. These include Orang Utan, leopards, deer, porcupines, African lion, and peacocks. Other favorite animals are pelicans, swans, eagles, snakes, silvery gibbons, and many others. With these animals, visitors won't feel bored when exploring the park. They are even allowed to take pictures of them freely. The wild animals are kept in the cage, while the harmless ones (like porcupines and hens) wander freely in an open area. That means tourists can approach and touch them without worries.
It is true that the guests need to pay the entrance fee in order to explore Cikembulan Wildlife Park. Have no worries. This would be a worthy expense! Not only visitors can watch various species of animals, but they can also enjoy the serene nuance. Later, they can even climb the replica of Titanic ship and play in its bridge ride. Not to mention several therapy ponds are available for them to try, featuring Garra Rufa fishes in it.
Nearby Attractions
Cangkuang Temple
Guntur Mountain
Citiis Waterfall
How to Get There
From Bandung City, a trip to Cikembulan Wildlife Park may take about 1 hour and 23 minutes. It is because the distance is 50.6 km, but it becomes faster if tourists take Nanggeleng – Cirahayu Street. The first thing to do is to get to Garut Regency. Next, they must reach Kadungora Sub-District and head to Cikembulan Village afterward.
Where to Stay
Alamanda Resort