Citiis Waterfall in Tarogong Kaler Sub-District, Garut Regency
---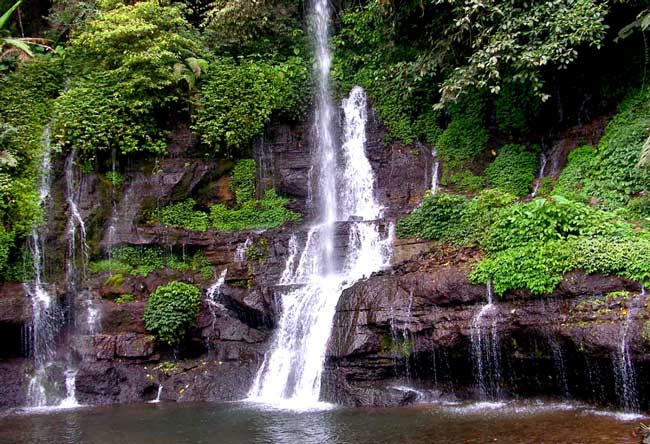 In Indonesia has become common knowledge that Garut Regency has many beautiful waterfalls. This fact also becomes one of the tourists' reasons in order to visit such regency! Well, as for the reference, there is one called Citiis Galunggung Waterfall and it is located in Pasawahan Village in Indonesia. In terms region, though, it belongs to Tarogong Kaler Sub-District. Despite the difficult route, people keep coming to the site in order to enjoy the serene atmosphere and watch the stunning waterfall directly. Some people are also interested in visiting the site in order to enjoy trekking in fact!
The Nuance
As mentioned before, in terms of nuance, Citiis Waterfall is peaceful and soothing. It is because this beautiful natural attraction is located in a secluded area (in the midst of a forest). No wonder, tourists need to pass through dense trees and conduct trekking in order to get to the site. Even though visitors won't find any facilities or accommodations there, they can take advantage of the serenity to spend the vacation. What about the appearance of the waterfall? The size is considered smaller than others, but it has a swift water discharge. It is also surrounded by bushes and some trees! Not to mention a natural pond resides under it, featuring various sizes of stones that scatter around it.
Exploring Citiis Waterfall
Despite lacking facilities, Citiis Waterfall remains as a recommended vacation destination for everyone. The first reason is its serene and comfy nuance, which is suitable for relaxation. Visitors don't even need to do anything as they can enjoy the atmosphere while watching pristine panorama on the site. Aside from sightseeing, it is also recommended to conduct photography when exploring the site. Well, the landscape is a little bit challenging, but it is worth to explore in order to get the best pictures of nature.
The next reason why people keep coming to Citiis Waterfall is to hear the history regarding the site. Thus, it is recommended to come with a local guide to get thorough information and history! It is said the site is surrounded by mystical creatures! According to the locals, many Kings of Pasundan Land often came to the site and conducted a meeting there. Not to mention these lords conducted a hermitage in order to retain more power and luck to rule their kingdom.
Another reason to visit Citiis Waterfall is none other than bathing in the natural pond, located under the waterfall. It feels quite refreshing, as the water is clean and cool. As for the tip, tourists should come in the morning to feel the freshest water of nature. Don't spoil the environment by littering, though.
Nearby Attractions

Cangkuang Temple
Guntur Mountain
Cikembulan Wildlife Park
How to Get There
The distance between Bandung City (the capital of West Java Province) and Citiis Waterfall is 62.7 km. That means tourists need to spend about 1 hour and 50 minutes to get to the site. The first destination is Garut Regency, actually. Next, they can take any local transportation to reach Tarogong Kaler Sub-District and visit Pasawahan Village immediately. For a faster trip, it is recommended to take Nanggeleng – Cirahayu Street.
Where to Stay
Alamanda Hotel
Santika Hotel
Sabda Alam Resort