Cikuray Mountain in Cilawu Sub-District, Garut Regency
---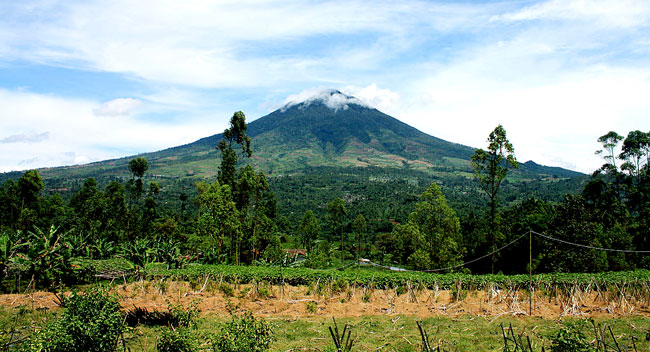 For those who look for a new adventure, they should choose Garut City as their next vacation destination. It is the home of a famous mountain called Cikuray, after all. This grandiose mountain resides in Dangiang Village and belongs to Cilawu Sub-District. Due to the size, it becomes the 4th biggest mountain in West Java Province! The others are Pangrangro, Ciremai, and Gede Mountain. Here is the next impressive fact. Cikuray becomes the biggest mountain in Garut Regency! What is more? Aside from the size, it is known for its challenging trekking route.
The Nuance
As mentioned earlier, Cikuray Mountain is considered majestic due to its size. When it comes to height, it is approximately 2818 meters above the sea level. Even the landscape is perfect for trekking and exploration. Despite such perfect environment, some people may feel a little bit disappointed due to the absence of facilities. Visitors won't find any toilets or inns there, in fact. Fortunately, they may find a nice campground where they can build the tent and spend the night comfortably. What they need is to come with a tour guide or experienced trekkers in order to find that site efficiently.
Exploring Cikuray Mountain
Well, it is better to learn about the history of Cikuray Mountain first. According to the locals, the past name of this mountain is Srimanganti. Several ancient scripts said that the mountain became a "Mandala" (the center of hermitage) amongst priests during the 17th century back then. It is also said that the mountain was used as the center of writing activity during the reign of Padjadjaran Kingdom. It is not a myth! Even the written proofs are kept well in Ciburuy Cultural Heritage Center of Cigedug Sub-District. For further information regarding the history of the mountain, tourists can either ask the locals or tour guides, actually.
After learning the history of Cikuray Mountain, tourists can enjoy the prime activity which is trekking. In fact, 3 trekking routes are available for them to choose depending on characteristics preferences and difficulty. These routes are Dayeuhmanggung, Cikajang, and Bayongbong. For those who love an extreme trekking experience, they should pick Bayongbong route as it offers a steep landscape and challenging environment. Here is the good thing. This route is considered the fastest, so trekkers can reach the peak of the mountain in an efficient manner.
During trekking, tourists may pass through a beautiful tea plantation called Akar Wangi Farm. According to local farmers, they also cultivate Atsiri (essential) oil there. This oil is the basic ingredient to make high-quality perfumes, in fact. Before continuing the trekking activity, thus, tourists should take some pictures of local's activity and buy some oils if necessary.
Nearby Attractions
Papandayan Mountain
Adat Naga Village
Orok Garut Waterfall
How to Get There
In order to get to Cikuray Mountain, tourists need to reach Garut Regency first. Next, they only need to go to Cilawu Sub-District and visit Dangiang Village right away. This whole trip may take about 2 hours and 10 minutes, as the distance is 75.6 km. In this case, the best route to take is Nanggeleng – Cirahayu Street.
Where to Stay
Nearby hotels are located in Garut City

Latest News
In the Journal of Nature (a scientific journal of high repute), Mounce et al (2017) revealed, widely that Botanical Gardens around the world have collected at least 105,634 species or equivalent to 30% of all known plant diversity worldwide. However, it was also disclosed that there are an estimated 75% of species that have not been conserved in the tropics. Therefore, the Bogor Botanical Gardens which incidentally located in the tropics and are included in the oldest botanical gardens in Southeast Asia, must be able to answer the conservation challenges…
---
The Bogor Botanical Gardens are the only natural destination in the middle of Bogor city with 87 hectares area. The transportation support capacity is very adequate to access this tourist location. Easy toll access and public transportation access are widely available, which are added values ??for the existence of this tourist location. The existence of the Bogor Botanical Gardens itself cannot be separated from the historical value of the existence of the Dutch in the colonial period, where it is known that the Bogor Botanical Gardens was founded by the…
---
Ranca Upas is one of the tourist destinations in Bandung. Here you can camp while looking at the herd of deer and stunning scenery. Ranca Upas is a tourist spot located in Rancabali District, Bandung Regency, West Java. Ranca Upas is also known as campground, which is a favorite place for nature lovers. At Ranca Upas you can camp in the meadow on a hill of about 1700 meters above sea level. The view in the morning really amazes like being abroad. Moreover, the cool air makes the atmosphere more…
---
Last year, the waterfall or in local language called as 'curug', became a very popular tourist destination for tourists. Its presence in remote areas makes tourists more curious and feels challenged to reach it. Local waterfalls are also crowded because at that time Indonesian citizens were hit by boredom due to the Corona virus pandemic which forced them to cancel their vacation plans. West Java is not only famous for its beautiful beaches and mountains. The area, which is divided into 18 districts and nine cities, also has tourism potential…
---