Darajat Garut Hot Spring in Pasirwangi Sub-District, Garut - Indonesia
---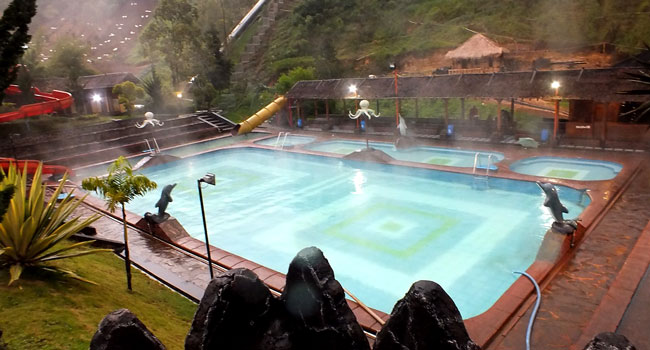 It is, without a doubt, Garut Regency is known for several recommended hot springs for tourists to enjoy. Some passionate travelers may have recognized Darajat Garut Hot Spring, in fact. The good news is everyone can get to this site easily from Garut, as the distance is considered near and the route is quite easy. To be exact, the location is in Karyamekar Village and it belongs to Pasirwangi Sub-District. For those who live nearby, they usually drop by in the hot spring for either resting or relax while watching splendid panorama.
The Nuance
According to the locals, Derajat Garut Hot Spring has been there since 2010. No wonder, more people are aware of this comfy and beautiful site as the time goes by. So, what can people find there? There are 2 ponds for adults, coming with different types. It comes with different depth and water temperature, as well. What about kids? Have no worries. A pond for children is available, including slides and other interesting water rides. In terms of facilities, tourists can find gazebos and food courts there.
Exploring Darajat Garut Hot Spring
Two major allures of Derajat Hot Spring are indeed the public bath and water boom. That means visitors have the freedom to use those facilities as long as they have paid the ticket. Aside from these, they can even find a waterpark which is suitable for kids! The thing is parents should choose the right pond for their children, due to the difference in depth. In this case, they should make sure to pick the safest pond for the kids. For more information regarding the ponds, they can ask the management or employees who work there.
Derajat Garut is not all about hot springs and water boom, actually. It is because tourists can also take advantage of available outbound facilities on site. This activity helps them to socialize with others and work as a team! No wonder, several companies choose this site to conduct team gathering and outdoor activities. When it comes to popularity, the most famous outbound facility is none other than flying fox. Have no worries. Everyone can enjoy it safely due to a professional service and high-quality safety equipment. Even some instructors are available there.
What is more? Derajat Garut Hot Spring is known for its eateries and accommodations. The location of these facilities is quite near to the ponds, in fact. So, tourists can spend more than one day in order to enjoy more fun there (especially during long holidays).
Nearby Attractions
Papandayan Mountain
Situ Cisanti
Mawar Park
How to Get There
A trip to Derajat Hot Spring may take around 2 hours and 29 minutes from Bandung City. It is because tourists need to pass through the distance of 82.8 km. What they need to do is to find a good transportation service to get to Garut Regency and head to Pasirwangi Sub-District afterward. Lastly, they should reach Karyamekar Village where the hot spring resides. For a faster trip, though, it is recommended to take Nanggeleng – Cirahayu Street.
Where to Stay
Puncak Derajat Resort
Green Hotel
Derajat Holiday Home