Papandayan Mountain in Cisurupan Sub-District, Garut - Indonesia
---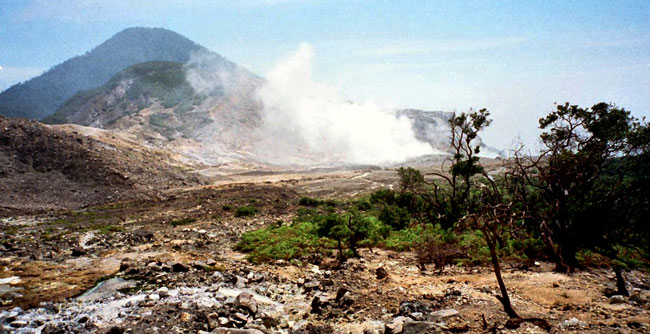 West Java Province is known for its culinary and natural attractions. In Garut Regency, for example, tourists can find a grandiose mountain named Papandayan. The location is in Sirnajaya Village and it belongs to Cisurupan Sub-District in Indonesia. Thanks to stunning panorama and challenging landscapes. Most tourists recognize this volcano as a nice place for trekking and photography! Lots of people also come to the mountain to witness numerous craters that reside on it. Plus, Papandayan is suitable for an adventure or get close to exotic floras and faunas!
The Nuance
The good thing is that tourists can find a vast parking area on the foot of Papandayan Mountain. This way, they can park the vehicle comfortably and start trekking to the best spots up there. In terms of size, it has the height of about 2665 meters above the sea level! Also, the mountain comes with various topographies including hills, steep valleys, and mountainous landscapes. As for the features, numerous trees and plants grow well there. Not to mention it becomes the home of exotic animals! Plus, several craters reside on several spots including Manuk, Nangklak, Baru, and Mas Crater.
Exploring Papandayan Mountain
The mountain is definitely popular among nature lovers. These people want to explore it and to see various species of flora that grove up there. Actually, the most popular ones are Magnolia, Argentea, Anaphalis, and Valium. The thing is that they grow in a different part of the mountain so trekkers should give more efforts in order to see those beautiful plants. What about the animals? Papandayan becomes the habitat of numerous fauna as well including porcupines, deer, wild boar, Sooty-headed bulbul, and various exotic birds. Tourists would be lucky if they are able to witness all these birds during trekking.
The next allure of Papandayan Mountain is the complex of craters that reside on the top of it. This area has the size of about 10 hectares and all of them are active (emitting hot steam). The steam passes through several magma holes and causes a unique sound as well, in fact. What is more? The mountain has other natural features indeed. One of them is called Saladah, which is a vast savanna with the size of about 8 hectares. The thing is tourists should conduct a trekking in order to reach this area, which is located at the height of 2288 meters above the sea level.
When exploring Papandayan Mountain, do not forget to visit Cigenah area as well. This site is the home of a famous hot spring, actually. That means tourists can rest and take a bath for a while before continuing their adventure. Later, they do other fun things like photography, camping, trekking, and much more!
Nearby Attractions
Cikuray Mountain
Saladah Campground
Mati Forest
Papandayan Crater
Papandayan Lake
Jaya Coffee Village
Tegal Alun
How to Get There
For those coming from Bandung City (the capital of West Java Province), they can take any local transportation service and head to Garut Regency right away. Next, they only need to visit Cisurupan Sub-District and reach Sirnajaya Village. This whole trip may take around 3 hours and 22 minutes, as the distance is 73.1 km. For a faster trip, though, tourists can take Raya Pacet Street.
Where to Stay
Adikrama Hotel
Sari Papandayan Resort
Puncak Drajat Resort
Kondang Sari Hotel