Papandayan Leisure Park in Cisurupan Sub-District, Garut Regency
---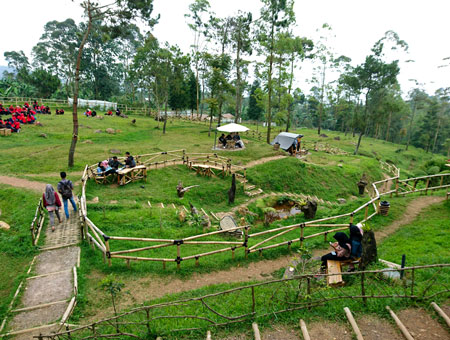 Some passionate travelers perhaps have heard about a famous mountain located in Garut Regency called Papandayan. Well, such amazing mountain also offers many natural attractions for everyone to visit. For those who look for a place to relax, though, their prime destination should be none other than Papandayan Leisure Park. It is located in Sirnajaya Village and belongs to Cisurupan Sub-District. Also, it is the part of Kramat Wangi Village. The most amusing allure of the site is the flawless natural scenery and the peaceful refreshing atmosphere.
The Nuance
As people may expect, Papandayan Leisure Park offers soothing natural scenery and cool air. It is because the site resides about 2600 meters above the sea level! The park features beautiful plants, ornamented stones, trees, and some facilities like gazebos and benches as well. Not to mention a serene pond resides on the location. When it comes to panorama, the best one is definitely the edelweiss flower beds! With all those attractive sceneries, visitors would take their time for photography indeed. Another satisfying fact is that the park is considered new, so it comes with the best shape whether in terms of cleanliness or neatness.
Exploring Papandayan Leisure Park
Despite the name, the park is located a little bit far from Papandayan Mountain. Instead, the park belongs to an area called Nangklak (which is on the foot of the mountain). No wonder, the scenery looks amazing there including both shady trees and green savannas. Not only visitors can see pristine nature, but they can also see several unique structures that scatter around the location. With all these attractions, tourists can enjoy both sightseeing and photography to their heart's content for sure.
The next common reason to visit Papandayan Leisure Park is to enjoy a family gathering. Thanks to available facilities. Visitors can use them comfortably and spend good times with their families. As for the tip, do not forget to carry a camera. It is because several spots offer exotic panorama and breathtaking natural backgrounds for photography. One of the best spots is definitely the watching tower located in a particular spot on the part. From there, people can even see the mountain clearly (as long as the weather is nice without fogs).
The next allure of Papandayan Leisure Park is the presence of outbound facility. No wonder, visitors can advantage of it to enjoy fun outdoor activities especially flying fox. Other challenges that they should try is the swaying bridge, cobweb, roped bridge, and many others. Have no worries. These are safe due to the sturdy condition of the outbound facilities and professional service of the instructors. For those who look for more peaceful activities, though, they can take advantage of the hammock and camping site for relaxing.
Nearby Attractions
Papandayan Camping Ground
Papandayan Waterfall
Jaya Coffee Village
Papandayan Mountain
How to Get There
The trip starts from Bandung City. In this case, the first destination is definitely Garut City. Next, tourists only need to go to Cisurupan Sub-District and head to Sirnajaya Village in order to reach the park. The whole trip may take around 2 hours and 50 minutes, as the distance is 88.4 km. For a faster route, travelers can take Nanggeleng – Cirahayu Street.
Where to Stay
Adikrama Hotel
Sari Papandayan Resort
Kondang Sari Hotel
Puncak Drajat Resort