Taman Manalusu Beach in Cikelet Sub-District, Garut Regency
---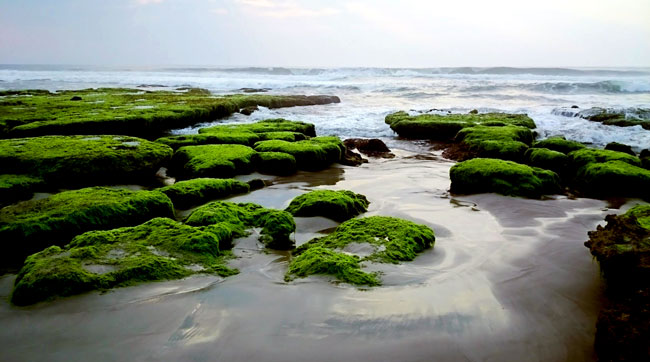 The south beaches of Garut Regency never fail to amuse tourists. One of them is called Taman Manalusu Beach and it resides in Cigadog Village, as for the reference. It belongs to Cikelet Sub-District and has been recommended by local tour agents to everyone. Not only it offers stunning sea scenery, but the beach also provides a nice nuance for tourists to relax. Plus, it has an interesting history and a good management done by local teenagers. When it comes to activity, tourists can enjoy beach walking, photography, exploration, and relaxation there.
The Nuance
According to the locals, the previous name of the site was Karang Manalusu Beach. "Karang" means coral reefs, actually. The locals gave the name due to the fact that the beach features lots of coral reefs that scatter on the seashore. Those become a perfect landscape for beach walking, for sure. What is next? The beach also has big waves and strong wind, so it is not suitable for swimming. Have no worries. The beach features lush trees and green farms in the back, where tourists can relax and explore comfortably. Another impressive fact is that the beach comes in a clean and neat environment. Thanks to the management.
Exploring Taman Manalusu Beach
The most common reason to visit Taman Manalusu Beach is to get a distinct vacation experience. It is because many tourists are looking for something new when it comes to a beach holiday. Unlike regular beaches, this one features more coral reefs so visitors can explore the site to their heart's content while enjoying the breezy wind. Also, it doesn't have as many visitors as others and makes it perfect for relaxation and finding peace.
Even though swimming is allowed, tourists should reconsider due to the fact that the beach has strong waves. Have no worries. There is a good spot to play water, which is the nearby estuary. It is both shallow and safe for swimming, indeed. What about kids? Well, they can enjoy swimming on such spot as long as they come with parents or under a supervision of adults. Even calm water can be dangerous for children, after all.
What is more? Many people also come to Taman Manalusu Beach in order to watch the beautiful sunset in the afternoon. Thanks to the strategic location. The beach faces west, so it becomes a perfect site to watch such romantic natural phenomenon. What tourists need to do is to come at the right time to watch the sunset, which is in the dusk. Carrying a camera is also recommended, in order to capture such mesmerizing scenery.
Nearby Attractions
Cimari Beach
Gunung Geder Beach
Karang Pakpak Beach
How to Get There
From Bandung City, tourists may spend about 4 hours and 16 minutes to get to Taman Manalusu Beach. It is because the distance is 150 km, but tourists can get there faster by taking Ciwidey – Cidaun Street. The prime destination is Garut Regency. Next, travelers need to reach Cikelet Sub-District and visit Cigadog Village right away.
Where to Stay
Citra Agung Inn
Suci Mutiara Villa
Kaum Villa