Sang Hyang Taraje Waterfall in Pamulihan Sub-District, Garut Regency
---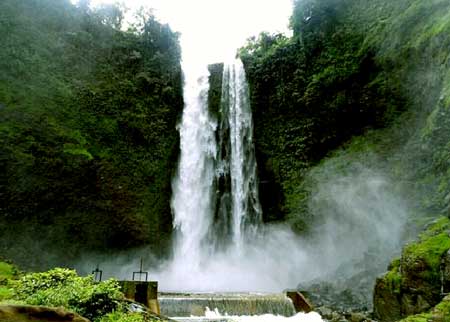 Here is the fact. Garut Regency becomes a nice vacation destination for those who love nature. One of the reasons is the presence of stunning waterfalls that scatter in different locations, including Sang Hyang Taraje. This one is located in Pakenjeng Village and belongs to Pamulihan Sub-District. In terms of name, "Taraje" means stairs. As the name suggests, the waterfall represents the shape of such object and makes it more attractive than regular ones. What about Sang Hyang? Well, it means the deity and heaven. Tourists usually visit the site to collect beautiful pictures of the waterfall and nearby natural attractions. Some of them also choose this place to enjoy trekking, though.
The Nuance
is a little bit secluded, so it takes some efforts to get to the location. Have no worries. The locals have provided excellent facilities to the site, including small gazebos and toilets. Thus, visitors would feel comfortable during the visit despite the tiring trip to get to the site. The presence of coconut trees and other vegetation make it more comfortable to visit, as well.
Exploring Sang Hyang Taraje Waterfall
Like other waterfalls in Garut Regency, Sang Hyang Taraje also owns a unique history. It is true that the locals gave the name based the appearance of the waterfall, which is similar to stairs of deity. However, another reason was the story behind it! It is said (according to the legend) a son of King Siliwangi wanted to pick a star for Dayang Sumbi. The name was Kian Santang. He passed through this waterfall to achieve his objective. Also, Kian stored his valuable belongings near to the falls guarded by a giant snake. Some locals even claimed that they have seen the snake!
The next common reason to visit Sang Hyang Taraje Waterfall is to enjoy trekking. Thanks to the challenging landscape. Visitors can get to the site while exploring the nature as well. Everyone should be careful during trekking, though. It is because the site features a steep valley on the right side of it. Have no worries. As long as tourists walk carefully and come during a good weather, they can reach the site safely.
Another thing to do in Sang Hyang Taraje Waterfall is photography. After all, it has a unique appearance and it is worth a photo shoot. Tourists can even explore the site to find other interesting objects to capture! Once again, they must be careful when exploring the area.
Nearby Attractions
Cipakenjeng Waterfall
Hiang Lake
Cibatarua Waterfall
Orok Waterfall
How to Get There
A trip to Sang Hyang Waterfall takes approximately 3 hours and 29 minutes for those who come from Bandung City. The distance is 108, so it is considered a long trip. It even requires some trekking later. Despite the fact, travelers can get there faster if they take Nanggeleng – Cirahayu Street. The first destination is Garut Regency. Next, they should head to Pamulihan Sub-District and visit Pakenjeng Village afterward (where the trekking begins).
Where to Stay
Eka Jaya Hotel
Adikrama Hotel
Kondang Sari Hotel