Papandayan Camping Ground in Cisurupan Sub-District, Garut Regency
---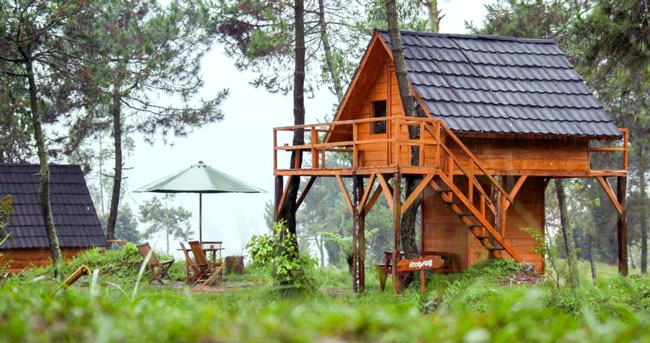 One of the newest tourist sites in Garut Regency is called Papandayan Camping Ground (PCG). The location is in Sirnajaya Village and it is the part of Cisurupan Sub-District. The good thing is that this amazing camping ground is located near to a famous leisure park where tourists can visit later! That means visitors can enjoy two types of activities once arriving at Sirnajaya. Despite the fact, camping becomes the main reason why more people keep coming to PCG. Also, this site is the best choice for beginners who are not ready to spend the night in Papandayan Mountain. It is because the camping site offers good facilities and a better landscape for everyone regardless of the experience.
The Nuance
As mentioned before, Papandayan Camping Ground has many benefits for beginners or those who do not have any experience regarding camping. The landscape is very nice and comfortable! Plus, tourists don't need to spend a tiring and time-consuming trekking in order to reach the site (as compared to that of mountain camping). Even any vehicles can easily pass through the route and get to the location without hassles. Once arriving at the camping ground, tourists may see a lush environment with several trees and bushes. The good thing is that the site has amazing facilities including tree houses, garden chairs, and toilets!
Exploring Papandayan Camping Ground
So, what can people do in Papandayan Camping Ground? It is common sense. Most tourists are going to enjoy camping once arriving at the site. The thing is that they need to choose the best spot to build the tent. Well, it would take some efforts if too many people come to the location (especially during weekends). In this case, everyone should come early in order to get those best spots. As an alternative, they can take advantage of the tree houses in order to get a more comfortable place to stay. It costs some money, though. Also, it doesn't give as interesting experience as camping in nature.
Aside from camping, visitors can do other things in Papandayan Camping Ground. For example, they can do photography and explore the site comfortably. Have no worries. The landscape is easy for them to explore and find great backgrounds for selfies. The only consideration is the weather. Everyone should only come during a good weather or in summer (when the rainfall is low). As for the equipment, it can be either a camera or smartphone. A DSLR camera is more recommended, though, for better results.
The next recommended activity to do in Papandayan Camping Ground is none other than outbound. Thanks to the management. They provide several interesting games including sky bike and flying fox. Thus, families can bring their kids and spend obtain memorable moments there.
Nearby Attractions
Papandayan Leisure Park
Papandayan Waterfall
Jaya Coffee Village
Papandayan Mountain
How to Get There
From Bandung City, a trip to Papandayan Camping Ground may take around 2 hours and 49 minutes. It is because the distance is 88.1 km. From such capital of West Java Province, tourists can simply head to Garut Regency by any local transportation service. Their next destination is Cisurupan Sub-District and they can head directly to Sirnajaya Village in order to reach the camping ground. Well, the whole trip may take approximately 2 hours and 49 minutes as the distance is 88.1 km. One thing, everyone should take Nanggeleng – Cirahayu Street in order to get to the site faster.
Where to Stay
Adikrama Hotel
Sari Papandayan Resort
Kondang Sari Hotel
Puncak Drajat Resort