Karang Paranje Beach in Cibalong Sub-District, Garut Regency
---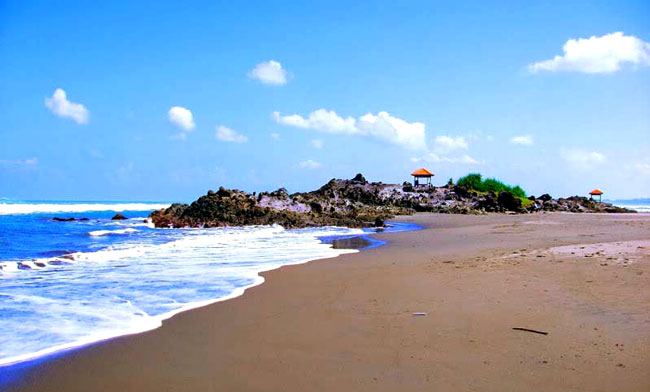 Here is common knowledge regarding Garut Regency. This region owns tons of natural attractions including mountains, waterfalls, and beaches. Well, for those who love to visit a coast, they can choose Karang Paranje Beach of Cibalong Sub-District. The location is in Karyasari Village and has similar characteristics to that of Bali's Tanah Lot! No wonder, it becomes one of the best beaches in Garut and becomes a nice place to do various activities like sightseeing, photography, relaxation, and family recreation. This popularity even inspires outsiders and foreigners to visit the site over time, as well!
The Nuance
As mentioned earlier, Karang Paranje Beach is similar to Tanah Lot when it comes to nuance. It features brown sand, strong wind, and big waves. Still, the most noticeable characteristic is the presence of big and small coral reefs scattered in the shoreline. What is more? The beach also comes with various facilities including eateries, toilets, parking area, camping ground, and inns. Even shelters are available on the coral reefs for tourists to relax and watch the sea scenery. When it comes to the number of visitors, it is definitely many (as the beach is famous among locals and tourists).
Exploring Karang Paranje Beach
No one should doubt the beauty of Karang Paranje Beach as it resembles Tanah Lot in many aspects. One thing that makes it different is only the absence of shrine on the top of the coral reefs. Unlike Tanah Lot, tourists won't find any temples up there. However, a small shelter or gazebo resides on it so that tourists can use it for either resting or conducting a family recreation. The breeze of the sea helps them to relax and find peace, after all. Not to mention they can watch exotic sea scenery and stunning white sand may astonish them!
It is true that the top of the coral reefs becomes the best spot to watch sea scenery. Still, that doesn't mean other parts of the beach are dull or boring! Any visitors should take their time to explore the beach thoroughly. Even though the waves are big, tourists can play in safely in the water and feel the refreshing seawater (as long as they don't get too far to the midst of the sea).
The next recommended tourist activity to do in Karang Paranje Beach is photography. It is because tourists can find many spots to capture astonishing pictures, especially on the top of the coral reefs. The good thing is that everyone can get amazing photos regardless of the time of visit, including in the morning and afternoon.
Nearby Attractions
Cijeruk Beach
Sayang Heulang Beach
Karang Gajah Beach
How to Get There
The distance between Bandung City (the capital of West Java Province) and Karang Paranje Beach is 153 km. That means the trip may take about 4 hours and 23 minutes, but it can be faster if travelers take Raya Cisompet Street. Once arriving at Garut City, they only need to head to Cibalong Sub-District and visit Karyasari Village immediately.
Where to Stay
Biasa Hotel
Wira Kalingga Inn
Beni Mekar Inn